Onboarding for
IKAWA Pro App 3
IKAWA roasters are a valuable tool in any roastery, we're excited about the improvements the app will make to day to day operations, but also know you'll have a few questions you want to understand before jumping in.
Read about the new features here, and read on for more in depth information…
Contents:
Use the links below to quickly navigate the page.
1. Getting Started is Simple
Update the app from the Apple or Google app stores.

Sign In or Create Account – we recommend using an IKAWA Pro Account. Doing so allows you to benefit from the powerful new features that mean you'll never lose your data: Backup all of your roast data; roast profiles and roast logs, and sync them across any device you log in to.

After logging in for the first time, it may take some time for your roast data (profiles, roast log and photos) to completely pull through and upload to your cloud account. While this is happening, it's OK to close the app, but please do not log out. 
Before getting started, have a read of some more detail covering User Accounts and other questions you may have.
Here's a summary of what's new in the app.
We've not explained every change, you'll notice various experience improvements as you use your IKAWA : )
2. Important information about IKAWA Pro App User Accounts
In the current  IKAWA Pro App there is an account feature where roast data is backed up to the cloud on a daily basis. In the IKAWA Pro App 3.0, when you are signed into your account, the data will be synced with the cloud in real-time, and not stored locally on the device. 
When you first log in to the app, it is important to follow these instructions, to ensure the data stored locally on your device is associated with the appropriate user account. 
Thousands of users have accounts. There are others who do not, but essentially there are these scenarios:
1. You have an account, and you are signed in to it > Your roast data is backed up daily to the cloud.
2. You have an account, but are not signed in and have used the app while not being signed in > The last backup was when you were last signed in, and subsequent roast data is stored locally on your device.
3. You do not have an account > Your roast data is stored locally on your device.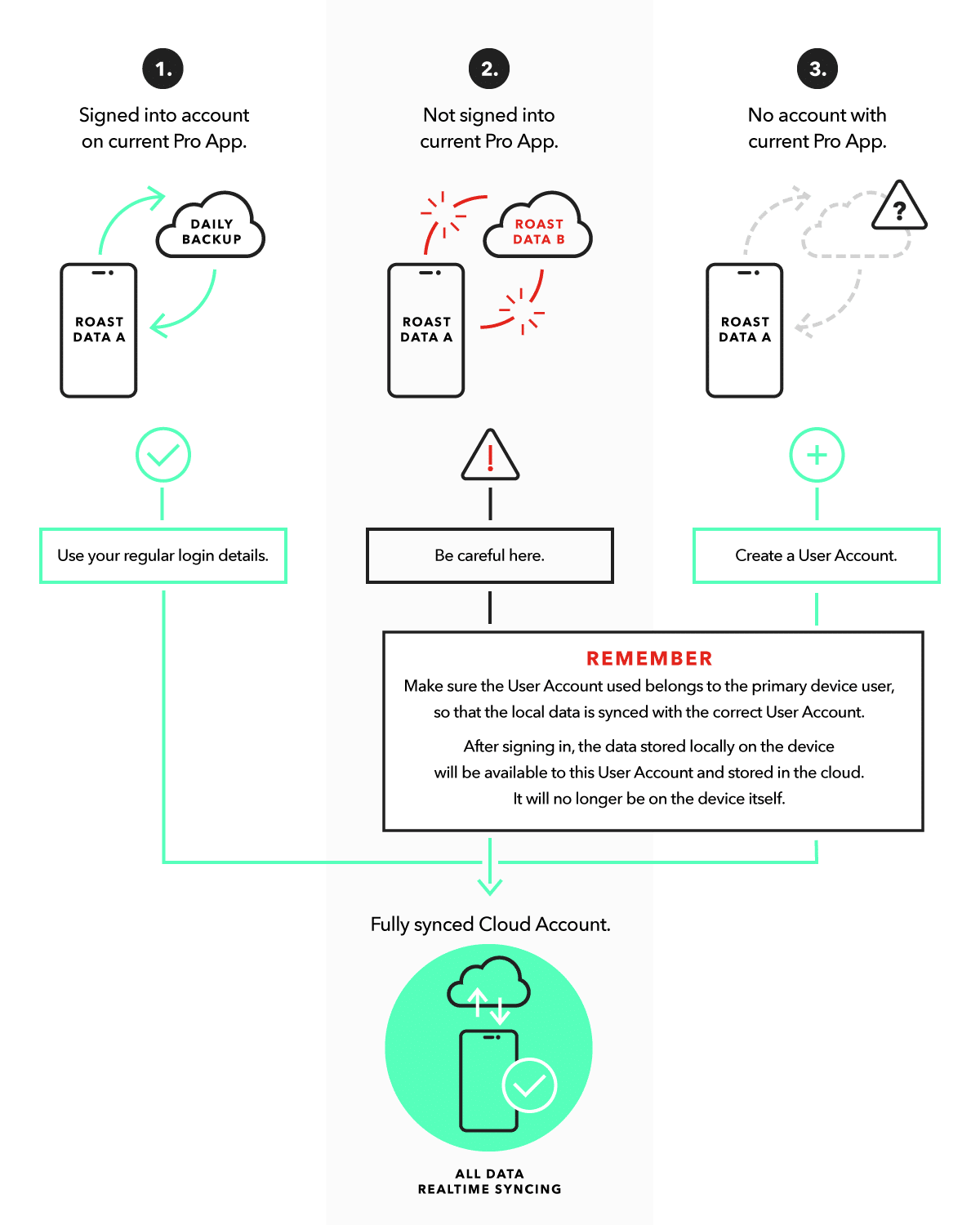 Scenario 1: where you have an account and are currently signed in; when you update the app, you'll be prompted to log in again, then all your roast data will transfer to the new app correctly : ) 
Scenario 2: Data is stored both locally on the device, and in the cloud. It is important that when you log in for the first time, make sure the User Account you use belongs to the primary device user, so that the local data is synced with the correct User Account. 
After you log into the device on the new app, the data that was stored locally on the device will only be available to this User Account, and no longer on the device. 
Scenario 3: We recommend using an IKAWA Pro Account. It's easy to create. 
When you log in to your device, the IKAWA roast data stored locally will be synced with your User Account. As with Scenario 2, it is important that when you log in for the first time, make sure the User Account you use belongs to the primary device user, so that the local data is synced with the correct User Account. 
There may be situations where different members of the team use one communal iPad for their IKAWA, while different members of the team have their own IKAWA User Accounts too. 
In this circumstance, consider if you would be best creating a new User Account that all the team can use – ie roastery@ etc – that is used on the communal device. 
Individuals in the team can then use their own accounts on their own devices, or log in to the communal account when they choose. 
Additionally, 
If you're using the same Account over multiple devices, all profiles and Roast Log data on all devices will be accessible on all signed in devices. Simply update the app and log in to each device to do this.
If you were a beta tester (thank you!!); profiles from your regular IKAWA Pro app, and the beta version will be ported over into App 3.0.
After successfully logging in with the appropriate User Account, you will experience the benefits of the cloud based account.
— Different users can log in and out of the app on the same device with no complexity
— Multiple devices can log into the same account at the same time and the data will sync in real time – you'll see this in the Roast Log. 
3. Will all my data from existing IKAWA App pull through to my new account?
Your roast data comprises of Roast Profiles and Roast Log information. 
Please read Important Information on App User Accounts first. All roast data associated with your IKAWA Account will pull through into the new app when you sign in to your IKAWA Account on the new app.
4. If I'm signed into my IKAWA Pro Account on multiple devices, what happens to the information?
If your device is connected to the internet, the data will sync across all devices where you are signed in. This will happen in real time.
5. Do I need to be connected to internet to use the IKAWA Pro 3.0 app?
The IKAWA Pro app works regardless of internet connectivity. As before, you still connect to the roaster using Bluetooth. Syncing with your IKAWA Account will take place when you next connect to the internet and it will run in the background.
6. Are there any firmware updates in this app?
We have added a couple of small changes to the firmware that accompanies Pro 3.0 app, but the latest version is still v24, and for users who already have the latest firmware, there will not be a firmware update process when you connect to your IKAWA.
The minor changes to firmware are designed to prevent the inlet temperature from maxing out at 290 degrees ºC, and overcome the 'Roaster too cold' error state. To benefit from these features, you can select 'Update roaster firmware' in Settings. 
If you are running a legacy version of the firmware on your roaster, you will be prompted to make a firmware update. You can choose to proceed with this, or select 'Later'. 
If you use the older V19 version of our firmware, please be aware that we've removed the option to revert to this version, however the in Settings > Roaster Control Settings, there is the option to 'Set open-loop Fan Control' which will enable your roaster to work smoothly, and benefit from the other firmware improvements, including an improved Rate of Rise graph.
We're turning on the lights! 
The most notable change in the Settings section is that we've added a Roast Count feature. When you connect to your IKAWA, you can see how many roasts you've done. 
Additionally, we've added Roast Count Since Service and Last Service Date – the counter will start for all services we conduct going forward – however it does not apply to services we've conducted in the past. 
And a reminder of some of the other useful settings options including: 
Roaster ID: this forms part of your Serial Number which is on the base of your roaster. You'll notice the Roaster ID is now included in the Status Bar and pulls through into the Roast Log too.
Bluetooth Name (which is useful if you're using multiple IKAWA roasters)
Use Fahrenheit: for all our American friends, this is for you : ) 
App 3.0 is available in 9 languages, if your device language is set to any of the below, the app will default to that language.
English

Spanish

Portuguese

Korean

Arabic

Chinese – simplified

Chinese – traditional

Japanese

Dutch